Gorilla Dog Beds® Tough Camo Orthopedic Bed – Round
$98.00 – $305.00
Need a different size? We offer custom sizes! Call, chat or email us for more information!
×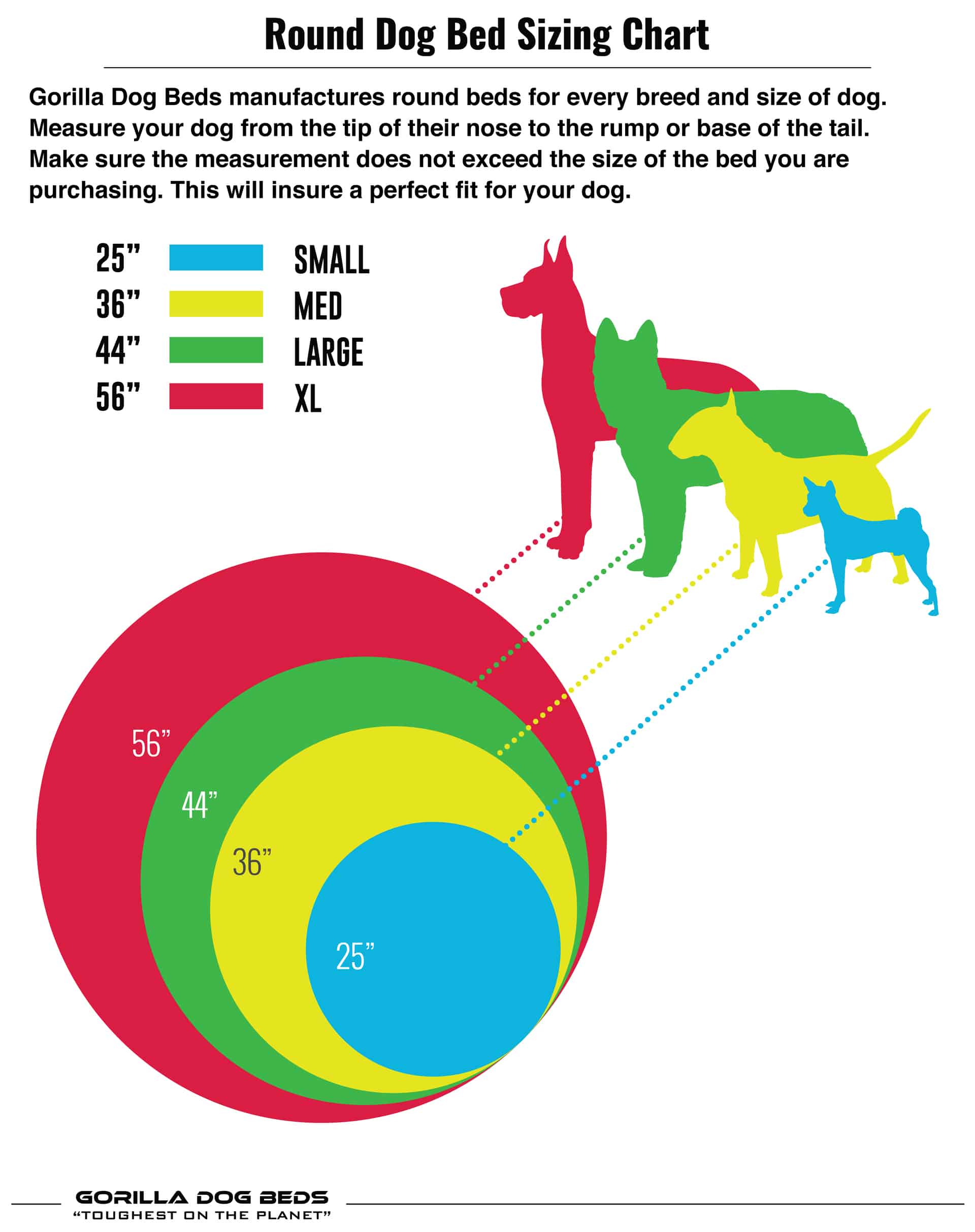 Cordura Tough® Orthopedic Beds
Our genuine Cordura® Tough Orthopedic line of dog beds are durable and have a proprietary backed coating which makes them water resistant. The US armed forces use Cordura® because of its extreme durability, abrasion and puncture resistance. We wanted to create a tough line of dog beds using one of the best materials in the world. Additionally, all our Cordura® Tough Orthopedic beds are triple stitched for added strength. We are the only dog bed company that uses a true triple stitched seam for incredible strength.  All our dog beds feature military spec Velcro enclosures on the underside. The enclosure is also located in a place that makes removing and putting the cover back on as easy as possible.
These are easy to clean and are resistant to dirt, odor, mildew and bacteria. Most messes and dirt can be wiped down with a damp cloth but the cover and liner can also be washed when necessary.
All our Cordura® Tough Orthopedic line of dog beds are composed of an all American high quality certified foam. We offer two mattress choices in our orthopedic line of beds. The first option is a thick high quality and dense orthopedic foam. The other option is our memory foam mattress which is composed of a dense base that is then bonded to a high-end memory foam. Both options are extremely comfortable, supportive and durable. However, the memory foam mattress conforms to your dog's shape, minimizes pressure on joints, helps circulation, and cradles your dog for ultimate comfort and sleep quality.  Both mattresses carry a lifetime won't flatten guarantee.
Features
Scratch & Tear Resistant
American made with certified foam by CertiPUR-US
100% Military Grade Cordura®cover
Triple Stitched seams
Lifetime Won't Flatten Guarantee
Hypoallergenic
Machine washable
Indoor and Outdoor use
Water-resistant liner included
Washing & Maintenance Instructions
All Gorilla Dog Bed covers, kennel covers, and liners are machine washable.  Our nesting poly fill mattresses are also washable, but all our foam mattresses and crate pads are NOT.  Orthopedic mattresses should be exposed to fresh air when needed.  Our covers and liners should be washed separately and not with other laundry. Close the Velcro cover completely before washing.  Wash in a cold water and a delicate cycle. Liners should be washed unzipped and open to allow air to escape.  We do not recommend heat drying for any of our products.  Air drying will ensure the longevity of the covers and liners.  For easy cleaning and spot treatment, use a damp cloth or sponge to wipe off stains, dirt, or hair.  An upholstery attachment for your vacuum can also be used.