Chew proof Dog Beds are the Best
Posted on November 19, 2018 by rpxwebmaster
Chew proof Dog Beds are the Best
Does your puppy tear up everything in sight?  There is one durable liner and mattress that is so indestructible that it is chew proof! Which is why chew proof dog beds are the best. Because of this, these products are made with extreme standards from quality to safety. Our products by design provide the highest level of comfort and quality and yet stays far ahead of the competition. Gorilla Dog Beds® carry products with proprietary materials with a patent. Most of our fabrics are went through military applications which are completely fail-safe. Most noteworthy, our line of dog beds and crate pads have a triple stitch, as a result, our pads have the strongest seams of any dog pad on the market.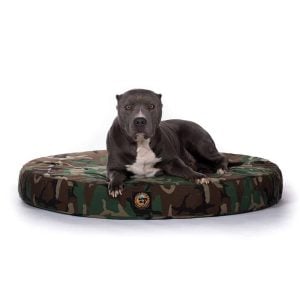 Guaranteed Warranty
If you purchase a Gorilla Dog Bed and your K-9 chews through one of our Ballistic Line of beds or crate pads, the company will send out one replacement cover free of charge. This is a one-time warranty that is good for 125 days after we ship your order out. Our line of orthopedic chew proof beds includes our industry-leading Life Time Warranty. If your mattress ever goes flat, we will replace it free of charge, no questions asked.
Taking care of your dog is almost as difficult as taking care of a child. You want the best for man's best friend. Here at Gorilla Dog Beds®, we have more than just chew proof beds, we have a Water-Resistant Liner that is included with all Orthopedic beds and Kennel Pads. Imagine how a baby feels when they have been wearing the same wet diaper for over twelve hours. If your puppy has an accident certainly, you want a liner under them that is resistant to any moisture.
Baby the Budget
When you think of chew proof beds, are you also thinking extra-large price tag? Is it true that you are stressing that you need to pay a hefty amount for a quality, large dog bed? Maybe you have a German Shepard at home that will not stop growing. This is an issue that numerous individuals experience, and it is vital to find the right solutions for your pup. But also, not break your bank account during the process.
If you have an above average dog, never fear Gorilla Dog Beds® are here! Many owners want chew proof beds with the emphasis on best. Gorilla Dog Beds® has a big bed for your big dog. Now that your mind is at ease you can continue planning that toxic-free environment for your pet. You get what you pay for in life. Because of this, you know you spoil your pet more than yourself.
Start Shopping Today
The executives at Gorilla Dog Beds® did some intense brainstorming before they put their product on the retail market. This was not a fleeting thought the quality of this dog bed was a process. Gorilla Dog Beds® takes pride in the safety of the retail products available for purchase.  Gorilla's chew proof beds sound like a simple creation but the quality was the priority of experts.
You can reach out to one of our professionals by calling 1-855-836-4233 or check us out on the web, www.gorilladogbeds.com. The quality of your pet is just as important to us as it is to you. Call us today!