Dog pads for crates
Are you the proud owner of man's best friend? Does your dog have a special place to sleep? You might think to give your dog a special bed as spoiling him. That simply is not true! Investing in dog pads for crates is actually protecting your pet. We as humans demand to sleep on a mattress that we can tolerate nevertheless, dogs have that same need. Pets have joints and muscles just as humans do, therefore, it is vital that your K-9 has comfort and safety when he sleeps.
Your Dog, Your Investment
The decision to become a dog owner is a rather large one. If you are going to make the commitment then you are going to want to make choices that protect them from possible unnecessary injuries.  As consumers, we look at a mattress and weigh out the pros and the cons based on our needs, however, we don't necessarily do that when it comes to our dogs. Sure dogs are tough and they have that survival instinct but, your pup is still an investment and his comfort in dog pads for crates should be a priority.
What Do Dogs Want?
Let's face it, your dog is not going to sit you down and make demands on you. That is not the kind of relationship that exists between a dog and its owner. Like maternal instincts, there is such a thing as pet instincts. As in any relationship, it takes time and patience and as a result, you will begin to notice your own pet instincts. Gorilla Dog Beds® is here to improve your dog's experience with their line of dog pads for crates.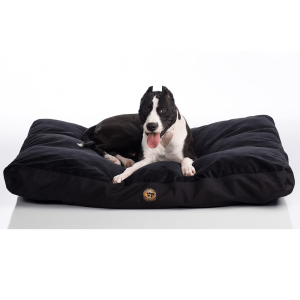 Orthopedic Beds Making a Difference
The idea that a dog needs specific bedding might be challenging for any owner to accept. The truth is, dogs protect their joints and muscles as most humans do. Think about how many mattresses you lay on before making that investment. The idea that you get what you pay for is true for consumers no matter the product hence, it is no different for a dog's bedding. Gorilla Dog Beds® has the toughest dog pads for crates made right here in the good 'ole United States of America.
Toughest Bedding Created for Dogs
All of our products here at Gorilla Dog Beds® are guaranteed to be the toughest on the planet. Our company manufactures all of our dog beds and kennel pads with patented proprietary materials. The fabric for dog pads for crates is proven and tested. We do not take the word tested lightly. These chosen fabrics are used in military applications where failure is not an option. Our complete line of dog beds and crate pads are triple stitched and as a result, this gives our dog beds the strongest seams of any product out there.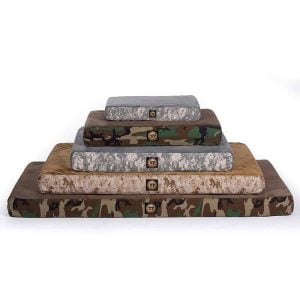 Gorilla Quality & Superior Comfort
In addition to our chew-proof ballistic line of dog beds and crate pads, Gorilla Dog Beds® features a luxury line of dog pads for crates. This must-have orthopedic bedding is soft, easy to clean, and above all, incredibly durable. We manufacture dog beds for every shape and size because no two dogs are built the same. Gorilla uses only the highest quality consequently, this is the most comfortable surface of any dog bed that exists today.
Gorilla Dog Bed's superior line of orthopedic, nesting, and kennel pads support all the pressure curves of your dog. As a dog owner, it is your responsibility to protect your pet's joints and bones and above all, make them just as comfortable as you are in your mattress.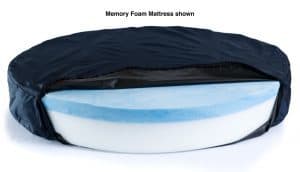 Confidence is in the Warranty
Gorilla Dog Beds® as a company is so confident in our line of bedding and pads that if your dog chews through one of our Gorilla Ballistic Line of bedding, we will send out one replacement cover free of charge. This is a one-time warranty that is good for 125 days after we ship your order out. Every Orthopedic Gorilla Dog bed includes our industry-leading Life Time Warranty. If your orthopedic mattress ever goes flat, we will replace it free of charge. No questions asked!
Key Features of Gorilla Dog Beds®
The Gorilla dog pads for crates are third-party tested for tear strength, abrasion resistance & easy wash. A multiple-point anchor Kennel tie-down system is another feature that is included with every pad. You will find dual closures on all pads as a result of the strongest zipper on the market. Our entire product line is proudly manufactured by skilled specialists in Texas. Gorilla Dog Beds® only trust American materials and workmanship as a result, your dog gets quality and comfort.
Gorilla Dog Beds®, a Positive Impact
Centipur-US certifies and tests all of our highest-quality foams because our company puts out products that focus on the pressure curves of dogs. This particular foam has been proven safe for the human grade. Our dog pads for crates prevent damage to your pet above all, we stand behind our products with the best warranty on the market. Why would you want anything less for your pet that you have invested time, money, and most of all, love into?
The Gorilla Difference
Our products are designed to provide the highest level of comfort and quality that is unsurpassed by the competition. The dog pads for crates are made with an extreme standard of quality, durability, comfort, and safety. All of our orthopedic dog beds, nesting dog beds, and crate pads are not outsourced but rather made deep in the heart of Texas.
Order your Gorilla Dog Bed Today
Gorilla Dog Beds® as a company is only satisfied with designing and manufacturing the best consequently, these products are the best on the market. Comfort should be a priority as a dog owner, therefore, all of our orthopedic dog beds, nesting dog beds, and kennel pads are made in Texas. Gorilla as a company will not allow any product to hit the shelves without carrying the standards this company stands for. Each product is made with quality, durability, comfort, and safety. Gorilla products are designed to provide the highest level of comfort and safety that is unsurpassed by the competition.
Stop By Gorilla Dog Beds® Today
If you are ever in the Houston area, stop by Gorilla Dog Beds®. We can be found at 7011 Lozier St. Houston, Texas 77021. If you want to reach out to us via phone, call one of our professionals at 1-855-836-4233. Research and shop on our website www.gorilladogbeds.com. Do what you would do for yourself, for your pet. Check out Gorilla Dog Bed's orthopedic dog beds and kennel pads for your special pet today!
Fun Facts About Houston Texas
The first traditional Hindu Mandir in the nation was built in Houston.
Houston has an underground pedestrian tunnel system. The tunnel is 20 feet below the ground and runs for seven miles, linking 95 city blocks.
The Houston Livestock Show and Rodeo is one of the biggest rodeos in the world.
To learn more about Houston click here.