Extra large dog beds
Do you have a Great Dane or perhaps a Saint Bernard and you don't think there is are extra large dog beds that exist? Gorilla Dog Beds® has everything you need for your large breed. Our products are made for all dogs. We are a company of dog lovers who have struggled to find well-made American dog beds for medium and large dogs.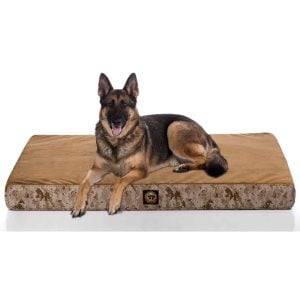 Exquisite Quality
Gorilla Dog Beds® never allows the quality to be jeopardized. Our ambition is rather simple. From our designs to the materials, we test everything before we allow it to go on our shelves. Our customers are getting the stronger and best performing durable dog beds out there. All beds are triple-stitched, as a result, we have the strongest seam of any dog bed available.
Safety
The foams that we use are made in the U.S.A. and are 100% certified by CertiPUR-US. Importance and safety are not only for your animals but for everyone in the household. We stand by all of our products. Our products are not and never will be outsourced outside of this great nation. Gorilla Dog Beds® stands by the integrity of our workmanship all the way.

Tough Pet Products
There are other manufacturers that claim to have chew proof dog bed products. Keep in mind that there is nothing that a determined chewer cannot destroy. The materials Gorilla uses are certified strong by our group of engineers. It is near impossible for dogs to destroy our line of durable beds. The kind of testing that we put our products through resulted in dogs giving up after not being successful.
These dogs would realize that they were not going to be able to destroy the product. Once the pets were unsuccessful in accomplishing their goal of chewing our product, they rarely tried to destroy them again. With the engineer-based testing, our tough dog beds will last for many years consequently, we stand behind our products.
Orthopedic Dog Beds by Gorilla
Do you have a pet with joint issues? Customers who have bought extra large dog beds are sold on our products. Reviews state that Gorilla does have the largest bed that you can buy and they did a comparison to other companies out there. The reviews continued to say that the quality of the memory foam was impressive. Customers also could not say enough positive things about the quick shipping.
Mold Resistant & Hypoallergenic Materials
Mold and mildew are dangerous for humans and animals. The extra large dog beds are made to resist mold and mildew while protecting your dog from allergies. Mold can turn toxic and the professionals at Gorilla Dog Beds® are aware that toxic mold kills! We would not expose a baby, child or even ourselves to toxic mold, why expose your dog to such danger?
Does your dog have sensitive skin? Perhaps your dog has allergies and you can't just run the risk of not having a bed that includes a liner with hypoallergenic materials. Hypoallergenic bed liners will give your pet the ease to rest comfortably. An organic bed liner will also put your mind at ease. Dog owners are looking to eliminate potential health problems with their pets which is why extra large dog beds by Gorilla Dog Beds® is the answer.
The Absence of Dirt & Odor
It doesn't matter the season of the year or which part of the world we live in, dogs bring in the dirt and the odor that comes with it is even a bigger challenge. Gorilla Dog Beds® features extra large dog beds that make your life easier as the owner and certainly improves the quality of life for your K-9. These are key items that are available to every dog lover and brought to you by none other than Gorilla Dog Beds®.
Washable Covers and Liners
A healthy environment means a healthy dog for that reason, Gorilla Dog Beds® have liners that come with extra large dog beds that are removable and washable. This not only keeps your household smelling good, but it also keeps your sanity. If you wash your sheets and towels every week then why wouldn't you wash the liner that your pup sleeps in every night? This is just one of the many bonuses that we want our consumers to experience.
Guaranteed Strongest Construction
The executives at Gorilla Dog Beds® did some intense brainstorming before they put their chew proof dog bed on the retail market. This was not a fleeting thought the quality of this particular dog bed was a process. Gorilla Dog Beds® takes pride in the safety of the retail products available for purchase. Extra large dog beds sound like a simple creation but, quality was the first priority of experts.
Gorilla Dog Bed Liners
Taking care of your dog is almost as difficult as taking care of a child. You want the best for man's best friend. Here at Gorilla Dog Beds®, we have more than just extra large dog beds, we have a Water-Resistant Liner that is included with all Orthopedic beds and Kennel Pads. Imagine how a baby feels when they have been wearing the same wet diaper for over twelve hours. If your puppy has an accident certainly, you want a liner under them that is resistant to any moisture.
Don't do this alone, Gorilla Dog Beds® is right here by your side every step of the way! Located in Texas, our address is 7011 Lozier St. Houston, Texas 77021 1-855-836-4233 or www.gorilladogbeds.com. The quality of your pet is just as important to us as it is to you. Call us today!
Fun Facts about Houston
The nation's only funeral museum, creepy and cool
Art Car Parade
Most ethnically diverse city in America
Memorial Park is three times the size of New York's Central Park
Click here to learn more about Houston