Christmas Gifts for Dogs
Posted on December 10, 2018 by rpxwebmaster
Are you struggling to find the perfect Christmas gift for your dog? Are you someone that loves to spoil your canine companion? In this post, brought to you by Gorilla Dog Beds®, we are going to highlight the perfect Christmas gift that you can spoil your dog with.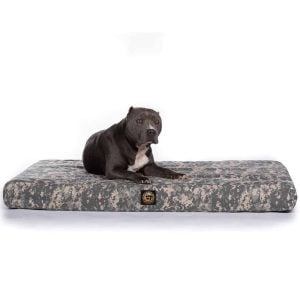 During the colder months of the year, do you want your dog to stay comfortable and warm? If so, then your pup would definitely appreciate a new dog bed. If you already have a dog bed, consider treating your dog to a new dog bed by Gorilla Dog Beds®. Gorilla Dogs Beds is a nationwide company that is committed to providing every dog owner with the best bed. We have done the researching, learning, and testing to ensure that we have the best dog beds on the market. We design and manufacture our own line of dog beds. They make the best Christmas gifts for dogs.
What Does Your Pet Need, What Does Your Pet Want?
Let's face it, your dog is not going to sit you down and make demands on you. That is not the kind of relationship that exists between a dog and its owner. Like maternal instincts, there is such a thing as pet instincts. As in any relationship, it takes time and patience and as a result, you will notice your own pet instincts. Gorilla Dog Beds® is here to improve your dog's experience with our incredible line of dog beds, crates, and mattresses.
When choosing the best dog bed there are factors you should be looking for. These factors include size, comfort, cleanability, and price. The dog beds we manufacture have an array of sizes. Our dog beds provide the most comfort for your dog. If your pup has joint problems, there is no doubt he needs a dog bed from Gorilla Dog Beds®. 
Look At Our Special Bedding For Support
Your pet might not be able to handle not having support. Specific bedding might be challenging for you as an owner to accept. Because of this, our products help dogs that have joint problems and even bone issues. The comfort of your K-9 will actually make you sleep better at night. The idea that you get what you pay for is true for consumers no matter the product hence, it is no different for a dog's bedding.
Visit Gorilla Dog Beds® Today!
If you are looking for the best Christmas gift idea for your pup, Gorilla Dog Beds® is the premier company you can count on. We are here to deliver the most comfortable, durable, supportive, washable, waterproof, and stain resistant dog bed on the market. You can see for yourself the difference a Gorilla Dog Bed can make in your pups life.
Do you currently live in Houston or plan on making a trip to Houston soon? Gorilla Dog Beds® is located right here in Houston, Texas. We can be found at 7011 Lozier St. Houston, Texas 77021. If you want to reach out to us via phone, call one of our professionals at 1-855-836-4233. Research and shop on our website gorilladogbeds.com. Our pet mattress experts are standing by to help you with your dog bedding needs.