NEW! 1″ Alpha Elite Leash
From: $49.50
-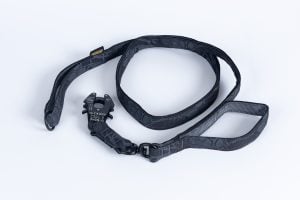 Alpha Elite Short Handle Add-On Extension
The Alpha Elite short-handle leash extension is composed of the same 100% American made Nylon material as the Alpha Elite leash, which is extremely strong, durable, and soft.
Product Information
Our Gorilla k9 Gear's Alpha Elite leash features a KONG Frog Snap with a swivel to avoid tangles. The Alpha Elite leash is composed of 100% American made Nylon, which is extremely strong, durable, and soft. The handles are thick for comfort in your hand and come with an O ring in the handle.
1″ Strong and durable American made nylon webbing

KONG Frog snap for quick release and hook up

MultiCam® & Kryptek ® webbing options

Wrapped with 1″ pack webbing

Rigid & sleek design

Double-ply Comfort grip with O ring

Black Bolt Snap

High-Quality materials

Available in 4′, 5′, & 6′ Lengths

Made in the USA
The strongest nylon leash on the market
When you touch it: you can feel the thickness of the material, which is not only 1 side thick, is both sides thick. The hook at the end helps when the dog attwmpts to chew it (dog chews the closer part to its head, so this leash's metal kong hook makes the dog attempt to destroy, actually really hard). I got the black one, and I liked the "militar" design, other than that the only downside I can think of is that this leash is heavier than others, but being that is extremely hard to destroy, I don't mind that flaw.
Just…Wow !!
I am really impressed. This leash is just so heavy duty, my 165 pounds great dane cant chew through it for sure ! He can pull all He wants He wont get away ! Thank you for the amazing custumer service, what a great team!
Alpha leash and collar
Very well made and heavy duty. Should last my Doberman!
My English Mastiff weighs 220Lbs but on this mattress he sleeps like a baby
Amazing!!
I got my new custom leash and it's amazing!! The material quality is impressively perfect, strong and durable, the accessory handle add on is a great feature, I love the ring on the end of the main handle (as I can connect my old handle only leash to make it longer if needed and the clasp to connect to my dogs collar is perfect and much easier than traditional leash clasps. I'm a very satisfied customer and I appreciate making a custom size leash for my GSD named Nova as she's my service dog and works flawlessly for how she works with me. This leash is Nova approved and Daddy supported and encouraged!!