Gorilla Ballistic Tough Round Orthopedic Dog Bed™
From: $99.00
-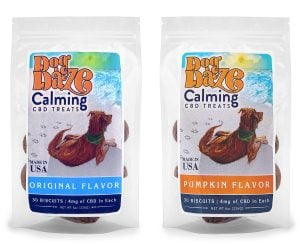 NEW! Dog Daze Calming CBD Treats—2 Flavors!
Our very own Dog Daze CBD 100% organic and American made calming treats are specially formulated for dogs that suffer from anxious and nervous behaviors. Dog Daze helps your dog maintain a peaceful relaxed state can help reduce behavioral problem like chewing.
Product Information
Chew Proof Ballistic Orthopedic Dog Bed
We're here to let you in on a little secret—Gorilla Dog Beds has the best dog beds on the market. Our Gorilla ballistic tough round orthopedic dog bed is the perfect place for your dog to rest, relax, and lounge after a long day of play. These beds are available in various sizes, allowing you to find the perfect option for your pup. These chew-proof orthopedic dog beds are the ideal resting place for your furry family member to sleep.
Orthopedic Mattress Options
Gorilla Ballistic Orthopedic dog beds are composed of an all-American high-quality certified mattress. We use different densities by size to support the weight of any dog. All of our Orthopedic dog beds feature CoolTek technology that keeps your dog cool and allows air to pass through. We offer two mattress choices in our orthopedic line of beds. The first option is a 5″ tall, high-quality, and dense orthopedic mattress. The second option is our memory foam mattress, which is composed of a dense 3.5″ tall base bonded to a 1.5″ tall high-end memory foam. The memory foam mattress conforms to your dog's shape, minimizes pressure on joints, helps circulation, and cradles your dog for ultimate comfort and sleep quality. Both options are incredibly comfortable, supportive, and durable and carry a lifetime won't flatten guarantee.
Features
125-Day chew proof warranty

Gorilla Offset opening for easy cover removal

268 lbs break strength American-made zipper

Extreme chew and scratch resistance

American-made with certified foam by CertiPUR-US

100% Authentic Gorilla Ballistic material

Lifetime won't flatten guarantee

Military-grade materials & triple stitched

Dirt, water mildew & odor resistant

Hypoallergenic

Machine washable

Water-resistant liner included

Indoor and outdoor use

Third-Party Tested For Durability, Tear Strength & Abrasion Resistance
Gorilla Ballistic 125-day Replacement Warranty
Although all our dog beds and kennel pads feature the most durable materials, our 125-day chew-proof warranty is for our Gorilla Ballistic line of dog beds and Kennel pads only. If your dog chews through the cover, we will send out one replacement bed cover free of charge. This warranty is good for 125 days after you receive your package. Embroidery is NOT covered under the 125-day chew warranty. If you notice any chewing damage, we recommend removing the bed from your dog to make sure your dog does not eat the bedding. Reintroduce the bed after receiving your replacement cover. If your dog has a history of destroying and possibly ingesting objects, supervision is recommended.  For more information, click on the orange tab above. 
Embroidery is NOT covered under the 125-day Chew Proof Warranty.
Custom embroidery items cannot be exchanged or returned.
Washing & Maintenance Instructions
All Gorilla Dog Bed covers, kennel covers, and liners are machine washable. Our nesting poly-fill mattresses are also washable, but all our foam orthopedic mattresses are NOT. Orthopedic beds should be exposed to fresh air when needed. Our covers and liners should be washed separately from any other laundry. Close the Velcro cover completely before washing. Wash in cold water and a delicate cycle. Wash liners unzipped and opened to allow air to escape. We do not recommend heat drying for any of our products. Air drying will ensure the longevity of the covers and liners. For easy cleaning and spot treatment, use a damp cloth or sponge to wipe off stains, dirt, or hair. An upholstery attachment for your vacuum is also useful.
Best dog beds!
Love these dog beds! I have had two beds for 3-4 years and they still look amazing. No rips, tears or wearing down even with two Danes using them. Just recently bought two more dog beds for a family member that has a pup that loves to chew, beds are holding up great.
Best bed ever!
We have a mini weenie dog. She has shredded every single bed. She chews the zippers and Velcro off the beds and takes the stuffing out. Even the Kong brand. We ordered this in hopes it would be comfy and indestructible. So far so good! Worth the money.
Strong enough for a Husky
I have a 8 month old husky ho has been destroying EVERYTHING. He was sleeping without a bed in his kennel for several weeks because I was too afraid to give him anything he would tear up and eat. Then I a friend told me about gorilla Dog Beds and decided to try one. He has been trying his hardest to destroy the thing, digging at it and chewing it during the night when he gets bored or restless, and so far there's not a single thread out of place. It was absolutely worth the price
The best dog bed, period.
We love the Gorilla Ballistic Orthopedic Dog be and our dogs love it even more! I think they must have read about the bed or discussed it with some older, wiser dogs who know the bed. It is so comfortable and so indestructible, they would not even think about trying to destroy it. They of course couldn't if they wanted to, it really is indestructible…