Herm Sprenger NeckTech Sport Black Matte Stainless Steel Collar with ClicLock Buckle
From: $68.50
-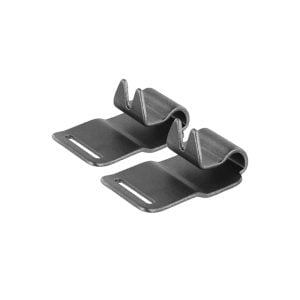 Herm Sprenger NeckTech Sport Black Stainless Links (2)
All Herm Sprenger Neck-Tech Sport collars come in standard sizes. But you can customize each of them for the perfect fit by adding or removing links. Each extra link for stainless steel Neck-Tech collars will add 1.25″ (3 cm) to the total length of the collar. PRODUCT FEATURES: Sold in packs of 2 Extra link […]
Product Information
Both the links and Clicklock buckle of the NeckTech sport collar are made of a black matt Stainless Steel, making it a great collar for all training situations and environments. Because of the saltwater resistance and the rust proof characteristics, it will serve your dog for many years showing no signs of corrosion. The slider portion of the Clicklock buckle is easy to use and is made from high-quality UV resistant and salt-water proof plastic components, for long lasting durability. Like most pinch collars, Herm Sprenger Neck-Tech collars are completely adjustable. By removing or adding Neck-Tech links, you can simply train through the growth of your dog without having to purchase a larger size.
PRODUCT FEATURES:
Adjustable sizing by removing or adding Neck-Tech links
Provides a more gentler correction than other training collars
Applies pressure equally across the whole neck circumference
Prongs are blunt and carefully polished not to harm you dog
Allows for quick action and correction of your dog's behavior
The slider in the buckle protects the push button from unintended release
All Stainless Steel components are corrosion resistance and easy to clean and maintain
Black finished Stainless Steel
Has a more discreet look than a standard pinch collar
Herm Sprenger Collar with Click Lock
Product is very nice and the customer service is excellent.
Herm Sprenger NeckTech Sport Black Matte Stainless Steel Collar with ClicLock Buckle