Herm Sprenger Ultra-Plus Black Stainless Training Collar with Center-Plate and ClicLock
From: $39.50
-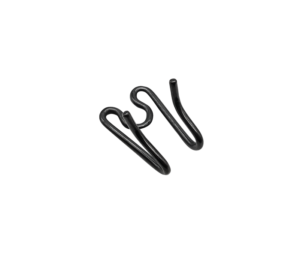 Black Stainless Herm Sprenger Ultra-Plus Prong Training Dog Collar Replacement Links
Get the perfect fit with the Herm Sprenger Ultra-Plus Prong Training Dog Collar Replacement Links. The links are used to add length to the Herm Sprenger Ultra-Plus Prong Training Dog Collars.  The blunt design is effective without causing pain and easily attaches to existing links. Replacement links for the Herm Sprenger Ultra-Plus Prong Training Dog […]
Product Information
A safe and convenient training tool, this collar is designed to let dogs know when it's time to train. The ClicLock makes it easier and safer to attach and detach. Click it into place and push to lock. It's great for taking large dogs or strong pullers on a walk. Replacement links are available if you need to add more for a larger fit and removed to adjust the size smaller.
Heavy-duty Black stainless steel construction

O ring leash attachment

Symmetrically arranged Blunt prongs to distribute pressure and cause no pain

Designed to help you train your dog

Adjustable length

Replacement links are available to increase collar size.

Guaranteed against rust and breakage

Corrosion-resistant

Long link design 

Patented center plate with asymmetrical prong placement for a balanced fit

Made in Germany
Arrived in a timely manner and did the job!!!
Reactive dog who isn't trained to walk on leash responded immediately.
Great service
I will be back for future needs.
Awesome
Thankful for the service and quality of product!! My client was extremely happy with the Herm Sprenger product. Thanks again!