Herm Sprenger Ultra-Plus Training Collar Steel Chrome Plated
From: $26.50
-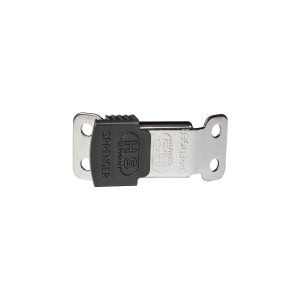 Herm Sprenger ClicLock Stainless Steel Buckle
The patented ClicLock buckle technology makes using a traditional prong collar faster and easier while retaining full collar functionality, and no need for additional hardware! When converting your traditional prong collar, the ClicLock buckle is intended to replace the flat center plate (without removing any prongs).  The stainless-steel clasp and brackets along with the saltwater-resistant plastic were […]
Product Information
Available in two sizes!
A safe and practical, this collar is designed to let dogs know when it's time to train. The blunt prongs are effective without causing pain. The patented center plate construction and symmetrical placements act as a natural point of contact for clear communication between you and your dog. It is great for taking big dogs or strong pullers on a walk. Replacement links are available if you need to add more for a larger fit and can also be removed to adjust size smaller.
Heavy-duty construction

Blunt prongs to cause no pain

Solid fastener plate for a secure connection

Great for walking strong pullers

Designed to help you train your dog

Replacement links are available to increase collar size

Long link design 

Patented center plate with asymmetrical prong placement provides natural contact for optimal communication.