Durability Matters
Posted on November 16, 2018 by rpxwebmaster
Durability Matters
Do you worry about your pet? Do you want to make your best friend's environment as comfortable as yours? Here at Gorilla Dog Beds®, we have our luxury line of pads for both the bed and the kennel. Our complete line of products come in a wide array of colors sizes. The quality of materials is the highest quality because Durability Matters.
The Chew Proof Line of the dog's beds and kennel pads are accompanied by an Industry Best Chew Proof Warranty at 125 days. In addition, our orthopedic dog bed mattresses already include a lifetime Won't Flatten Guarantee. For example, if your orthopedic doggie mattress ever flattens, we will replace it.  We firmly believe in standing behind our products and keeping our customers happy. We are proud of the warranties we have in place and with that said, we are the industry leader.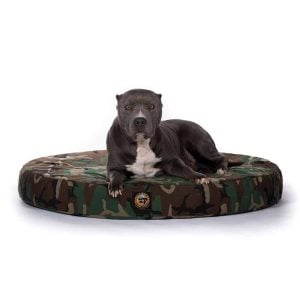 Key Features of Dog Beds
The Gorilla Durability Matters is third-party tested for tear strength, abrasion resistance & easy wash. A multiple-point anchor Kennel tie-down system is another feature that is included with every pad. You will find dual closures on all pads as a result of the strongest zipper on the market. Gorilla Dog Beds® only trust American materials and workmanship as a result, your dog gets quality and comfort. Our orthopedic dog beds, nesting dog beds, and crate pads are not outsourced out but rather made by Americans for Americans.
Engineers Test Products
Our products here at Gorilla Dog Beds® are guaranteed to be the toughest on the planet. Our company manufactures our dog beds and kennel pads with patented proprietary materials. The fabric for a Durability Matters is proven and tested. We do not take the word tested lightly. These chosen fabrics are used in military applications where failure is not an option. Our complete line of dog beds and crate pads are triple stitched and as a result, this gives our dog beds the strongest seams of any product out there.
Are you looking for Durability Matters? If you are going to make the commitment, then you are going to want to make choices that protect them from possible unnecessary injuries.  As consumers, we look at a mattress and weigh out the pros and the cons based on our needs, however, we don't necessarily do that when it comes to our dogs. Sure, dogs are tough, and they have that survival instinct but, your best friend is still an investment and his comfort should be a priority.
Surf Our Website
Call us with your questions 1-855-836-4233. Research and shop on our website www.gorilladogbeds.com. Do what you would do for yourself, for your pet. We have an assortment of products just for your breed no matter the pet.  Don't forget to shop for a gift card so you can make a birthday or a holiday special for someone. Check out Gorilla Dog Bed's orthopedic dog beds and kennel pads for your special pet today!
Fun Facts about Houston
Hermann Park and Zoo where you can play golf and see animals all in one day
Johnson Space Center, home of NASA is twenty minutes from downtown
Houston is the 4th largest city in the nation