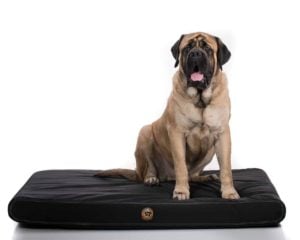 Finding the perfect dog bed is usually a top priority when caring for your loving fur baby. You know that high-quality sleep and relaxation are an essential part of their well-being. Nobody wants to deal with the potentially aggressive and unruly behavior of a tired dog.
It is no secret that as humans we make sure we have a bed that best suits our needs and the same goes for your dog. No matter the age or size, your dog deserves the best of everything! Dogs fill our lives with unconditional love and in turn, we can fill theirs with plenty of snuggles, treats, and a good place to sleep.
What more could one ask for?
A dog bed that is chew-proof, durable, and soft is a great start!
Why Dogs Chew Their Bed
There are different reasons that a dog may chew their own bed. Age, environmental triggers, and health can all play a role in the reason that your dog may be doing this.
When they are puppies, they are more likely to chew their bed because of boredom, curiosity, or lack of toys to keep them occupied. A puppy has lots of energy and is always looking for something to play with. That's all the more reason to invest in an indestructible dog bed for your pup.
As the dog gets older and more mature, they are less likely to destroy their bed unless they are never taught otherwise. Some dogs chew their bed in their older age because of anxiety or other internal health issues.
It is always best to discuss the reasonings with your vet but in the meantime, investing in a tough, chew-proof dog bed can make the biggest difference.
Basic Dog Beds vs. Chew-Proof Dog Beds
Typically, when you go to purchase your dog a new bed, you look for the coziest one that will suit their size. This isn't always the best way to find a good dog bed as your dog may have other needs that should be accustomed to.
If a dog has joint pain, it could use an orthopedic bed. If a dog likes to chew things up, well…. A durable dog bed could be the answer! It's the best of both worlds for your beloved fur baby.
A basic dog bed can give your dog a place to rest but a chew-proof dog bed can ensure that your dog keeps that place to rest for more than a couple weeks.
Beds such as Gorilla Dogs beds are made with military spec Velcro on the enclosures, triple stitched seams for durability, and exceptionally dense fabric to ensure that it is puncture-resistant. These strong-willed dog beds are not only cozy but are made to last through the toughest situations that they may endure.
No More Headache
Although you can't stay mad at the cute face that greets you at the door, it can still become frustrating and more of a headache to come home to a destroyed dog bed. Between the stuffing and material being everywhere, to the fact that you now must invest in a new bed, you quickly learn that you want to stop this from happening again.
When you decide to buy a chew-proof, indestructible dog bed, the whole game changes. No more dread of walking through the door to find a mess and no more time spent looking for a replacement.
It's Time to Save Money
It is time to stop wasting your money on basic dog beds and time to start investing that money into a bed that will be worth it!
Though you may pay a little more money in the initial investment of purchasing a chew-proof dog bed, it will save you money in the long run. Every time that your dog chews up its bed you find yourself pitching out more money to replace that bed.
The time and money that you must spend over and over, looking for a new bed could come to an end. Instead, take the time to find a durable, chew-proof, but still comfy bed. Your dog will thank you and so will your budget!
Final Thoughts
Giving your dog the coziest bed doesn't mean that it should always turn into their chew toy. You can invest in a cozy bed that will also last through your dog's excessive chewing moments.
Keep in mind that there is always a reason behind a dog's aggressive chewing behavior that can eventually be resolved. While you are going through the puppy stage or just trying to find the reason behind the behavior, purchasing a chew-proof, durable dog bed will eliminate one extra worry from your list.
It's time to ditch the basic dog beds that aren't sustainable and time to make way for the new and improved tough dog beds. Your pup will thank you, and so will your bank account.