Calming Dog Treats
Posted on August 23, 2022 by Team Gorilla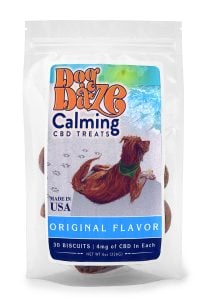 As CBD is becoming more popular around the country, people are starting to ask more questions about the product and if it could be right for them. For years there has been a sort of stigma around CBD because of the other chemicals it is corresponded with and the plant that it comes from.
Everyone is seeing the benefits that this can bring to our daily lives and that even includes our pets. Rather than viewing CBD as a bad thing is it important to realize that research has proven to help with many issues and diseases.
From cancer patients to dogs with arthritis, CBD is pulling through as the hero. You may have heard the stories of all the people and animals it is helping, which has caused you to wonder if it could be useful for your very own dog. You can give your dog a more satisfying and happier life with CBD.
Let's take a closer look at CBD, what it is, and what it does. Then, you can see how CBD treats can help your dog as well.
What is CBD?
CBD (cannabidiol) is a natural chemical found in cannabis plants also known as marijuana and hemp. Many people mistake CBD as a substance that will give the feeling of being "high", but this is not the case.
CBD does not contain THC which is the component that typically gives that high sensation, and it is the leading chemical that is used in medical marijuana. That being said, it is used to treat pain, anxiety, and inflammation that are brought on by many circumstances. CBD can help calm these issues to help your dog rest and move better.
Is CBD Safe for Dogs?
While there have been lots of studies and research pushing for CBD use to be safe and effective for human use, some may question, is CBD safe for dogs? Let's explore this question.
According to the American Kennel Club, there hasn't been a ton of research done on canines but from what experts can tell, it is in fact safe for dogs when given in the proper dosage. Not only is it safe, but giving your dog calming dog treats is also very effective in many ways.
Just like many supplements that are given on a regular basis, CBD has not been approved by the FDA, but it is a natural and organic solution to many issues that your dog may have. Pay attention to any warning signs of your dog not appreciating these all-natural dog supplements. If your pup seems to have an allergic reaction or other side effects, contact your veterinarian right away.
Getting Rid of Anxiety
Many dogs battle separation anxiety or may show signs of anxiousness. If your dog seems to be dealing with these feelings turning to a CBD supplement can reduce the anxiousness and help them to be in a calm state.
Dog Daze calming CBD treats come in two different flavors and has been shown to work wonders. They are infused with organic ingredients and contain no harsh chemicals. These treats work to activate certain receptors in the dog's brain that gives them a calm sensation and in turn, helps them feel less anxious.
Giving your pup calming dog treats won't guarantee that they will never feel anxiety again. They can be incredibly helpful when they're used as a supplement to help them ease anxious or unwanted feelings in situations where it seems to bring on those stressors.
Reducing Arthritis and Other Joint Pain
We all, including dogs, have what is called the endocannabinoid system. This system controls most critical body functions including inflammatory and immune When a dog is given CBD it works with this bodily system to reduce pain and inflammation.
Arthritis is one of the leading causes of joint pain in dogs which is brought on by inflammation. If the CBD is interacting with those receptors and lessening the root cause, your dog won't be in pain and in turn will be able to get around easier and have a better quality of life.
No More Nausea or Other Digestive Issues
CBD influences the dog's overall well-being and the way that they feel by releasing certain hormones or by working with certain receptors. One hormone that CBD has shown to release in the body is serotonin. Once the serotonin is released it will then reduce nausea that your dog may be feeling.
Some dogs may have more digestive issues than others. It all depends on their genetics and their diet. If your dog is having digestive problems, give them an all-natural CBD dog treat and, in no time, they will notice a difference and so will you!
As mentioned before, CBD reduces inflammation which is what typically causes gut issues. So, you reduce the inflammation… you reduce the digestion problems.
Keep This in Mind
You should always be well-informed and have plenty of knowledge on these all-natural dog supplements before giving them to your furry family member. Here are a few things to keep in mind if you decide to give your dog CBD treats.
Always check with your veterinarian
Check for THC – the product for your dog should always have 0% THC
Use broad spectrum CBD – This means that it contains other natural components that will help your dog
Give the right dosage
These are the main things to acknowledge when you use CBD treats. Aside from that, keeping them out of reach and separate from the regular dog treats are the only other concerns to remember.
Final Thoughts
CBD has lots of benefits for not only humans but for dogs too. It is always best to ask your veterinarian if this could be beneficial to your dog. You can purchase any CBD products that you want to try on your dog just as long as you stick with the tips mentioned when making your decision.
Giving your dog any new supplement can be worrisome, but CBD is an all-natural chemical that has proven to have more benefits with fewer downsides. Sometimes, going this route can be better than using prescription medications.