NEW! 1″ Nylon Elite Leash
From: $43.00
-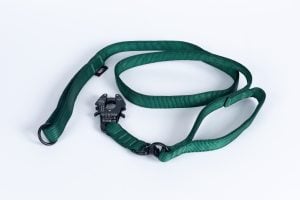 Nylon Elite Short Handle Add-On Extension
The Nylon Leash short-handle leash extension is composed of the same 100% American made Nylon material as the 1″ Nylon Elite leash, which is extremely strong, durable, and soft.
Product Information
1″ Nylon Elite Leash
Did your dog chew through their leash again? Don't worry. We've got the solution for you! Our Gorilla K9 Gear's 1″ Nylon Elite leash is a durable dog leash that withstands canine jaws and full-force tugs. Despite being super tough, this nylon dog leash offers lots of comfort, providing a soft texture, a KONG Frog Snap and swivel feature that prevents tangles, and a thick O-ring handle that's easy on the hands. Ensure maximum security, comfort, and functionality when handling your dog with our 1″ Nylon Elite Leash.
1″ Strong and durable American made nylon webbing

KONG Frog snap for quick release and hook up

MultiCam® & Kryptek ® webbing options

Wrapped with 1″ pack webbing

Rigid & sleek design

Double-ply Comfort grip with O ring

Black Bolt Snap

High-Quality materials

Available in 4-foot, 5-foot, and 6-foot lengths

Made in the USA
Awesome American made leash
Very well made and durable leash that will last a long time. Very happy with my purchase and am glad I found Gorilla Dog Beds.
NEW! 1" Nylon Elite Leash
1" Nylon Elite Leash
Quality product! Love the kong clasp as well as the option to add the handle. Great leash for our pup!
Nylon Elite Leash
High quality with a smooth locking mechanism. Looks good too.
Donated to a rescue dog
Trust it's working well