NEW! Power Chewer Rubber Can Toy & Treat Dispenser
From: $12.75
-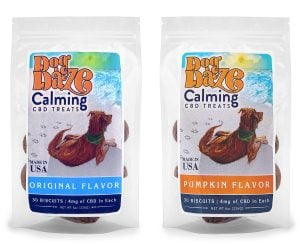 NEW! Dog Daze Calming CBD Treats—2 Flavors!
Our very own Dog Daze CBD 100% organic and American made calming treats are specially formulated for dogs that suffer from anxious and nervous behaviors. Dog Daze helps your dog maintain a peaceful relaxed state can help reduce behavioral problem like chewing.
Product Information
Power Chewer Rubber Can Toy and Treat Dispenser
Have you caught your dog stealing a sip of your canned drinks? Like kids, dogs are naturally curious and tend to copy some of your actions. Instead of sharing your drink with your inquisitive pup, give them their own can to mimic you. Our Power Chewer rubber can toy and treat dispenser looks like a can and stores a tasty delight. However, this Power Chewer dog toy is a lot safer and dog-friendlier than an actual can. Shop our Power Chewer rubber can toy and treat dispenser and share a canned treat with your best friend.
DESIGNED FOR THE MOST POWERFUL CHEWERS: Ultra-durable for the dog that destroys everything.
MAGNUM STRENGTH: Proprietary compound with a special additive for increased tear strength.
DURABLE CHEW TOY:  Can Toy is designed to withstand the abuse of most "power chewer" dogs.
DISPENSES TREATS: Help you dog fight boredom by filling the can with treats like kibble or our New! Dog Daze CBD treats. 
REDUCES PROBLEM BEHAVIORS: Reduces problem chewing, helps reduce boredom, and relieves separation anxiety.
MADE IN USA: Designed and Manufactured in the USA!
NATURAL: All-natural rubber compound is FDA compliant, non-toxic and biodegradable. It is sustainably harvested helping us reduce our carbon footprint. Animal and planet friendly!
VETERINARIAN APPROVED
DISHWASHER SAFE: Dishwasher safe & easy to clean
REPLACEMENT GUARANTEE
We stand by our products and offer a 30-day replacement guarantee. Although all the products we sell are tough, no dog toy is indestructible. Supervise dogs while playing and chewing. Inspect frequently and replace if it becomes too small to chew safely. This product is not intended to be eaten or swallowed.
SIZES & DIMENSIONS
MEDIUM:  3″ Tall X 2″ Wide 0-35LBS
LARGE:  4″ Tall X 2.5″ Wide 30-60Lbs
EXTRA LARGE: 5″ Tall X 3″ Wide 60-90lbs
Tough and high quality toy
My dog loves this Tough toy and it keeps him busy when I leave the house. I fill it with Peanut butter and place a Dog Daze CBD treat inside. Awesome treats by the way. Also form Gorilla Dog beds. This combination keeps him calm and active and most of all keep him from making a ruckus in my house.
All around great toy, tough as nails.
This toy is awesome! My bully breed dog loves to chase it, poke it for treats, and hasn't been able to make a single mark on it. It takes him about 4 seconds to destroy most other toys, so I consider this one to be a win!
Tough
My dog destroys most toys rather quickly, not this one!
Most Durable
Max loves this toy so much. He will play fetch all day long. By far the most durable and favorite toy I have bought him!. Tried all the Kongs. This one way better.