Gorilla Tough Orthopedic Dog Bed™
$85.00 – $334.00
Need a different size? We offer custom sizes! Call, chat or email us for more information!
×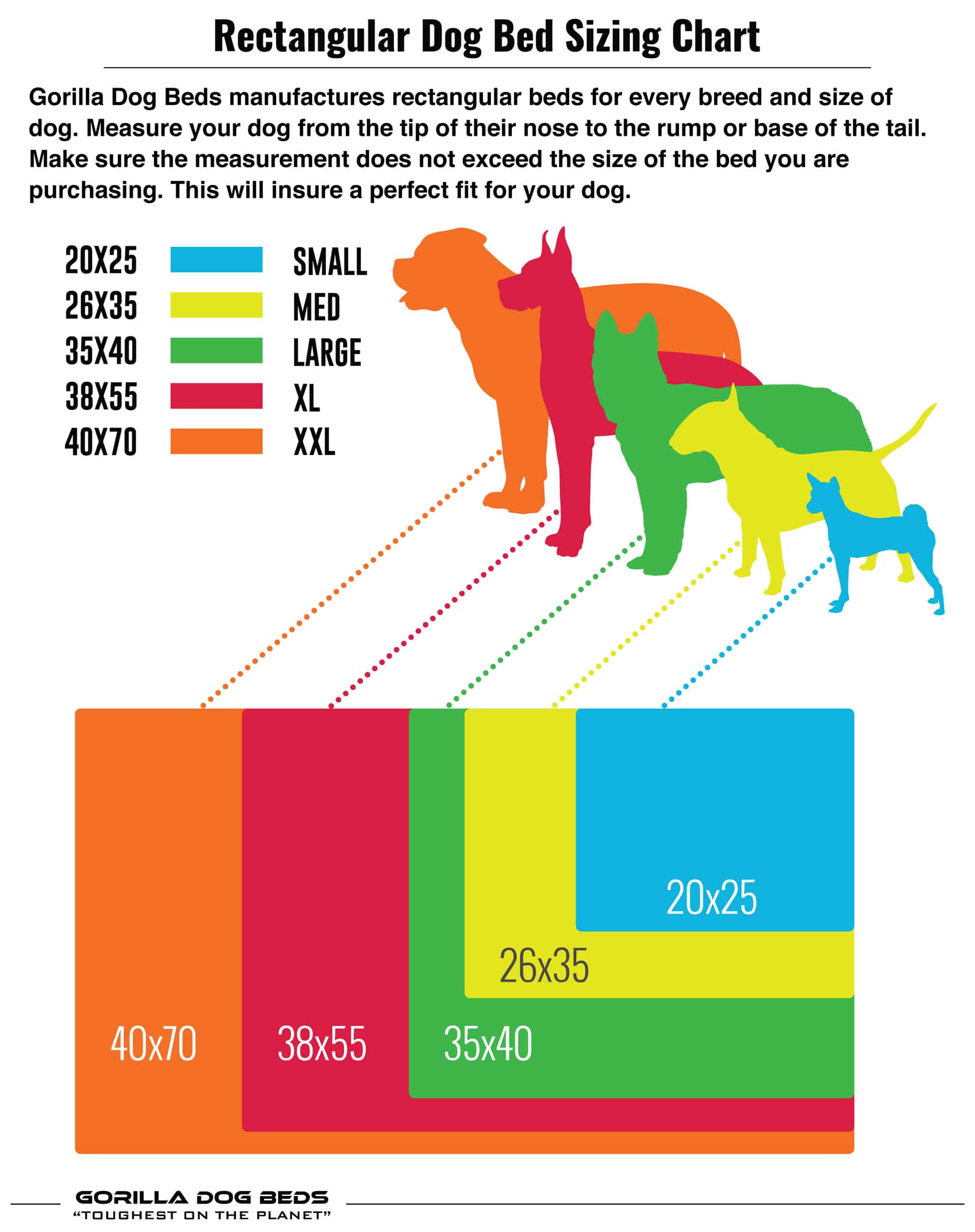 Gorilla Tough Orthopedic Dog Bed Featuring Cordura®
Our genuine Cordura® Tough Orthopedic line of dog beds are durable and has a proprietary backed coating which makes them water-resistant. The US armed forces use Cordura® because of its extreme durability, abrasion, and puncture resistance. We wanted to create a tough line of dog beds using one of the best materials in the world. Additionally, all our Cordura® Tough Orthopedic beds are triple stitched for added strength. We are the only dog bed company that uses a true triple stitched seam for incredible strength.  All our dog beds feature military spec Velcro enclosures on the underside. The enclosure is also located in a place that makes removing and putting the cover back on as easy as possible. They are easy to clean and are resistant to dirt, odor, mildew, and bacteria. Most messes and dirt can be wiped down with a damp cloth but the cover and liner can also be washed when necessary.
Orthopedic Mattress Options
All our Cordura® Tough Orthopedic line of dog beds are composed of an all-American high-quality certified mattress.  We use different densities by size to support the weight of any dog.  All of our Orthopedic dog beds feature CoolTek technology that keeps your dog cool and allows air to pass through.  We offer two mattress choices in our orthopedic line of beds. The first option is a 5″ tall, high-quality, and dense orthopedic mattress. The second option is our memory foam mattress which is composed of a dense 3.5″ tall base that is then bonded to a 1.5″  tall high-end memory foam.  The memory foam mattress conforms to your dog's shape, minimizes pressure on joints, helps circulation, and cradles your dog for ultimate comfort and sleep quality.   Both mattresses are extremely comfortable, supportive, and durable and carry a lifetime won't flatten guarantee.
Features
Scratch & Tear Resistant
American made with certified foam by CertiPUR-US
100% Military Grade Cordura®cover
Triple stitched seams
Lifetime Won't Flatten Guarantee
Hypoallergenic
Machine washable
Indoor and Outdoor use
Water-resistant liner included
Washing & Maintenance Instructions
All Gorilla Dog Bed covers, kennel covers, and liners are machine washable.  Our nesting polyfill mattresses are also washable, but all our foam mattresses and crate pads are NOT.  Orthopedic mattresses should be exposed to fresh air when needed.  Our covers and liners should be washed separately and not with another laundry. Close the Velcro cover completely before washing.  Wash in cold water and a delicate cycle. Liners should be washed unzipped and open to allow air to escape.  We do not recommend heat drying for any of our products.  Air drying will ensure the longevity of the covers and liners.  For easy cleaning and spot treatment, use a damp cloth or sponge to wipe off stains, dirt, or hair.  An upholstery attachment for your vacuum can also be used.
Pit bull Chewers
So far this has been the longest time that anything that my female had lasted. She tried the first day to chew on her bed, but she failed and she gave up, this has been the best product ever, now it's time to buy one for the male, he will be the ultimate test the really shows how good this product really is
Great quality!
We went through so many $35-$100 dog beds!!! Should've just bit the bullet, and would've saved so much money in the long run. Our dog is a family member, but she's a digger of dog beds. So far, not one thread is out of place on this thing. We did put a blanket over it. The fabric is loud...plus it gives her something to move around. Fabric is tough, Velcro is tough, this thing is tough! USA made...yes, please!!!
Not torn up yet!
I may have received your Gorilla beds 25 days ago, but I did not actually open them up and put them down until about 10 days ago. I let the dogs do without for a while. Then I put your Gorilla beds down. They seemed grateful to get their beds back. I also gave them more chew toys and antlers to chew on and play with then I did before. So far, the Gorilla beds have made it! 2 other sets of Dog Beds for Less, did not. I threw them away piece by piece as the dogs chewed them up and destroyed them. I even ordered another Gorilla bed...since I have 3 dogs...and only ordered 2 beds the first time. When those 2 seemed to be lasting, I ordered a third. So, so far, so good! Love the purple color too. I have 3 German Shepherd dogs. 5yo, 4 yo, and 1 yo. The destroyer is of course the 1 yo. I am also walking them daily instead of every other day or less. They seem happier. I am getting my steps in. Your beds are holding up! Win-win-win situation thus far! Yeaaa!
Perfect for elders
I have a 13 year old Pit Bull named Chance. All Chances life I struggled to find a dog bed that best suited him. He always seemed to put a hole in every bed I got him because he loves to scratch before he lays down to get comfortable. I've spent so much money in just one year on about 3 different beds. However, around Christmas of 2020, I stumble across Gorilla Dog Beds. I emailed the company asking questions about their beds and they emailed me back the same day! With their amazing customer service, I bought this bed for Chance for Christmas. Flash forward, almost a year later, the bed is still in the same condition it was in when I got it. The Orthopedic Mattress has not flattened, no holes, tears, nothing. It is easy to clean and I also added a heating pad between the cover and mattress. Everything about this bed is amazing. I will be purchasing another bed, but bigger this year and will be giving the old bed to me and my boyfriends new Beagle puppy, Zeke, since he loves to steal Chance's bed. If you're thinking about getting this bed, do it! I wish I would've known about Gorilla Dog Beds a long time ago, I would've saved so much money. (The size of the bed in the picture is a medium)
BIG Dog- BIG Bed
We recently agreed to re-home a 3.5 yr old mastiff/dane cross. We needed XL everything. This bed was a great find. Quality. Durable. Comfortable. Our new addition loves the space it provides while being completely supported. My only complaint is the durable cover is "noisy". Nonetheless, it's a great investment. I loved the option to embroider as well.