Gorilla Ballistic Tough Orthopedic Dog Crate Pad ™
$89.00 – $198.00
-
Need a different size? We offer custom sizes! Call, chat or email us for more information!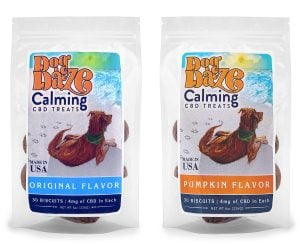 NEW! Dog Daze Calming CBD Treats—2 Flavors!
Our very own Dog Daze CBD 100% organic and American made calming treats are specially formulated for dogs that suffer from anxious and nervous behaviors. Dog Daze helps your dog maintain a peaceful relaxed state can help reduce behavioral problem like chewing.
Product Information
Gorilla Ballistic Tough Orthopedic Crate Pad  (125-day chew proof warranty)
 Gorilla Ballistic Tough kennel and crate pads are incredibly durable, rugged, reliable, and puncture-resistant.  Engineered to hold to dogs that dig, scratch, and chew, our proprietary Gorilla Ballistic fabric is exceptionally dense and has an inner coating that prevents dust, mold, mildew, and odor from penetrating the foam. It is the toughest and most chew-resistant kennel and crate pad on the market, guaranteed. 
All of our crate pads feature a military-grade Velcro enclosure on the underside.  A 268lb break strength zipper keeps your dog from penetrating the foam.  All our seams are triple stitched to ensure the strongest seam of any kennel/ crate pad ever made.  Also included is a tie-down system that keeps your dog from flipping the crate pad over inside the kennel. All our crate and kennel pads come with a water-resistant liner. Most messes and dirt wipe down with a damp cloth, but the cover and liner are washable. The foam pad is not washable. Gorilla Ballistic kennel and crate pads are made in the USA. They feature a high-quality 2.5″ certified foam mattress that gently conforms to your dog's shape while supporting your dog in the most comfortable way possible. Different densities, by size, ensure the best support on the market.
Features
Extreme chew and scratch resistance

125-day chew proof warranty

American made with certified foam by CertiPUR-US

Gorilla Offset opening for easy cover removal

Dual closures-Hidden 268lb break strength zipper & Velcro

Military-grade & triple stitched

Dirt and water-resistant

Mildew and mold resistant

Hypoallergenic & odor resistant

Machine washable

Water-resistant liner included

Indoor And Outdoor Use

Velcro Strap Tie Down System

Third-Party Tested For Durability, Tear strength & Abrasion Resistance
Gorilla Ballistic 125-day Replacement Warranty
Although all our dog beds and kennel pads feature the most durable materials, our 125-day chew-proof warranty is for our Gorilla Ballistic line of dog beds and Kennel pads only. If your dog chews through the cover, we will send out one replacement crate pad cover free of charge. This warranty is good for 125 days after you receive your package. If you notice any chewing damage, we recommend removing the bed from your dog to ensure your dog does not eat the bedding. Reintroduce the bed after receiving your replacement cover. If your dog has a history of destroying and possibly ingesting objects, supervision is recommended.  For more information, click on the orange tab above. 
Washing & Maintenance Instructions
All Gorilla Dog Bed covers, kennel covers, and liners are machine washable. Our nesting poly-fill mattresses are also washable, but all our foam orthopedic mattresses are NOT. Orthopedic beds should be exposed to fresh air when needed. Our covers and liners should be washed separately from any other laundry. Close the Velcro cover completely before washing. Wash in cold water and a delicate cycle. Wash liners unzipped and opened to allow air to escape. We do not recommend heat drying for any of our products. Air drying will ensure the longevity of the covers and liners. For easy cleaning and spot treatment, use a damp cloth or sponge to wipe off stains, dirt, or hair. An upholstery attachment for your vacuum is also useful.
Awesome Crate pad
This crate pad is the absolute best. I was hesitant to spend the money on it at first but it is amazing. My dog digs at this every night and so far no tears. We've had it for 1 month so far. We keep my dog in the crate at night because he's still a puppy and still gets into everything and tears stuff up. So most nights he pees on the crate pad before he makes a sound to wake us up. The cover is easy to wipe clean and wash in the washer. Definitely recommend this crate pad.
So Far, Cider Resistent
Our two-year-old Brittany has destroyed several beds, but this one is holding up. Cider has tried to drag it, dig in it, and chew it, but the bed remains intact. I think we have a winner.
Best bed
Fits in the crate perfectly Cody loves it
Solid so far.
Pup went through two dog beds in a week, and we wanted something tougher. So far she's been unable to get sufficient purchase with the straps, and the bed proper is tough to tear through.
Best beds crate pads ever!
We have two French Bulldogs puppies and we're having trouble finding crate pads that they couldn't destroy. Even though they are puppies from a relatively small breed they are still bulldogs are are HARD chewers. I'm
so thankful we found these crate pads! They are incredibly tough and well made but still comfortable for the dogs. I can relax now when we put them in their crates for naps, etc! Thank you for making these so tough!!