Gorilla Tough Orthopedic Dog Crate Pad™
$81.00 – $179.00
Need a different size? We offer custom sizes! Call, chat or email us for more information!
×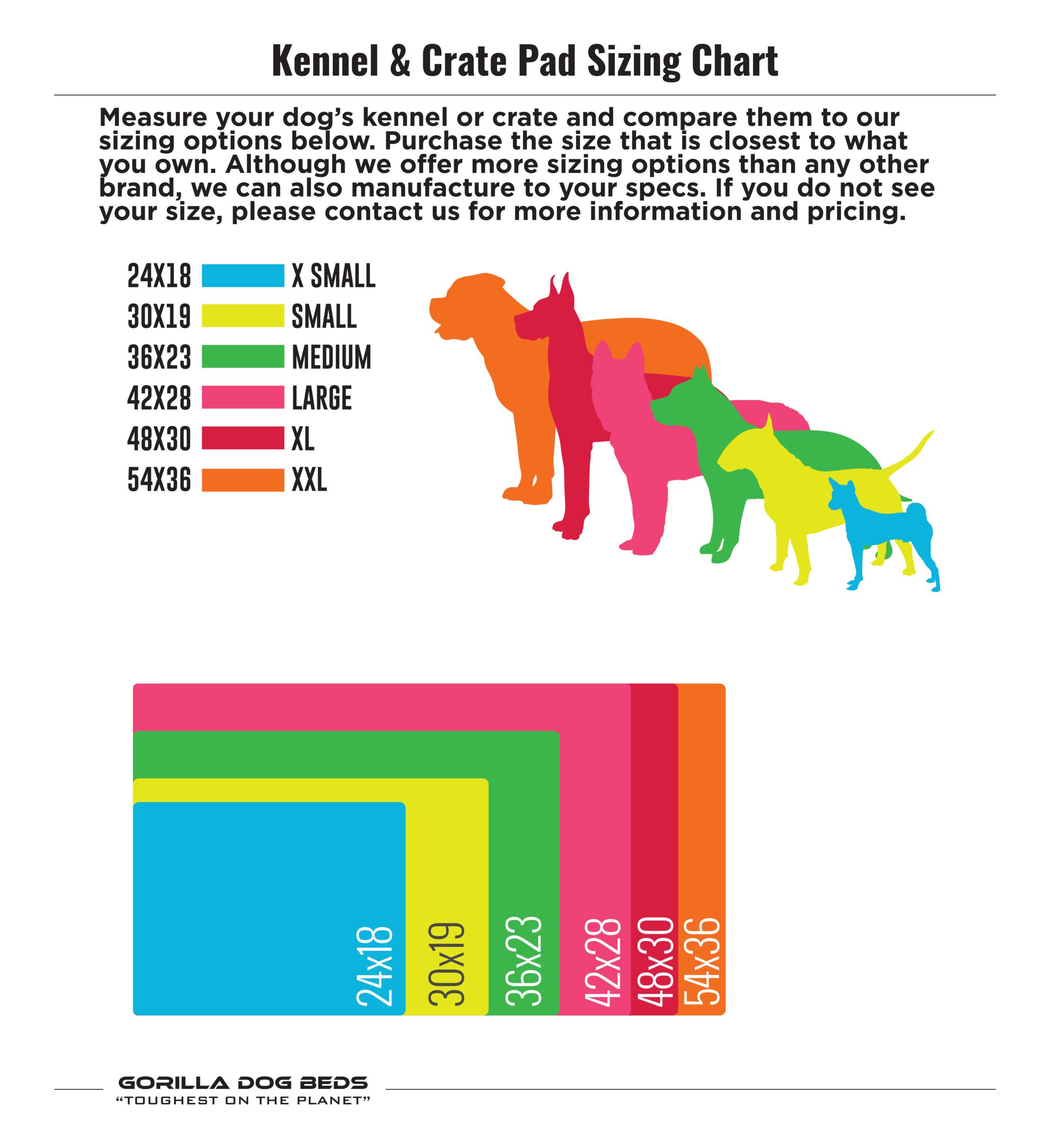 Gorilla Tough Orthopedic Dog Crate Pad (100% Workmanship Guarantee)
Our Cordura® kennel and crate pads are extremely tough and have a proprietary backed coating which makes them water resistant and great for outdoor use. The US armed forces use Cordura® in many different applications primarily because of its extreme durability, abrasion, and puncture resistance.
We manufacture these using a military grade Velcro enclosure on the underside as well as a 268lb pull strength zipper that keeps your dog from penetrating to the foam. All our seams are triple stitched to ensure the toughest kennel pad on the market.  We also included a tie down system that keeps your dog from flipping the pad over inside the kennel.  All our crate and kennel pads come with a waterproof liner that is the best in the industry. Most messes and dirt can be wiped down with a damp cloth, but the cover and liner can also be washed when necessary. The foam pad is not washable.
Cordura® Tough kennel and crate pads are composed of American made, high quality 2.5″ certified foam that gently conforms to your dog's shape while supporting your dog in the most comfortable way possible.
Features
Military grade Cordura®
American made with certified foam by CertiPUR-US
Scratch & tear resistant
Triple stitched
Dirt and water resistant
Mold, mildew and odor resistant
Machine washable
Indoor and outdoor use
Water-resistant liner included
Hypoallergenic
Velcro Strap Tie Down System
Washing & Maintenance Instructions
All Gorilla Dog Bed covers, kennel covers, and liners are machine washable.  Our nesting poly fill mattresses are also washable, but all our foam mattresses and crate pads are NOT.  Orthopedic mattresses should be exposed to fresh air when needed.  Our covers and liners should be washed separately and not with other laundry. Close the Velcro cover completely before washing.  Wash in a cold water and a delicate cycle. Liners should be washed unzipped and open to allow air to escape.  We do not recommend heat drying for any of our products.  Air drying will ensure the longevity of the covers and liners.  For easy cleaning and spot treatment, use a damp cloth or sponge to wipe off stains, dirt, or hair.  An upholstery attachment for your vacuum can also be used.
Great
My older dog loves her Gorilla orthopedic bed. So, when the tray in her crate cracked, I replaced it with the orthopedic crate pad. I took me a while to get it installed correctly, but I'm glad I did. She was hesitant to go in the crate for the first time, but now she goes right in. I know this is more comfortable for her and provides protection from the cold floor. Love your quality products and Lucy does too,
Tough as described
Dog hasn't been able to tear it up
Gorilla Tough Orthopedic Crate Pad
Works great!!! My 2yr old Rat Terrier loves it. I did remove the 2" foam rubber & replaced with her pillow. She loves it.🥰
Excellent dog bed for our dog's crate
This Dog bed took a whole ay to expand, but after it did and then put cover on, its been great. Our dog has tried to "dig" her way out a few times, the material does not show a thing, super strong!