Gorilla Ballistic Tough Orthopedic Dog Crate Pad ™
From: $89.00
-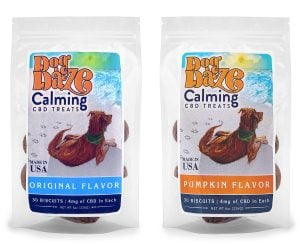 NEW! Dog Daze Calming CBD Treats—2 Flavors!
Our very own Dog Daze CBD 100% organic and American made calming treats are specially formulated for dogs that suffer from anxious and nervous behaviors. Dog Daze helps your dog maintain a peaceful relaxed state can help reduce behavioral problem like chewing.
Product Information
Gorilla Ballistic Tough Orthopedic Crate Pad  (125-day chew proof warranty)
All dogs deserve comfort while they're lounging in their crate. That's why Gorilla Dog Beds created the Gorilla Ballistic Tough orthopedic dog crate pad. Whether your pup is lounging after a long day or you need to crate them while you run a few errands, they shouldn't have to lay on a hard plastic floor. Invest in the most comfortable and indestructible crate pad for your dog. Your canine friend will appreciate having a soft place to relax when they need a moment of solitude. These orthopedic dog crate beds come in various sizes, fabric colors, and thread colors.
Features
Extreme chew and scratch resistance

125-day chew proof warranty

American made with certified foam by CertiPUR-US

Gorilla Offset opening for easy cover removal

Dual closures-Hidden 268lb break strength zipper & Velcro

Military-grade & triple stitched

Dirt and water-resistant

Mildew and mold resistant

Hypoallergenic & odor resistant

Machine washable

Water-resistant liner included

Indoor And Outdoor Use

Velcro Strap Tie Down System

Third-Party Tested For Durability, Tear strength & Abrasion Resistance
Gorilla Ballistic 125-day Replacement Warranty
Although all our dog beds and kennel pads feature the most durable materials, our 125-day chew-proof warranty is for our Gorilla Ballistic line of dog beds and Kennel pads only. If your dog chews through the cover, we will send out one replacement crate pad cover free of charge. This warranty is good for 125 days after you receive your package. If you notice any chewing damage, we recommend removing the bed from your dog to ensure your dog does not eat the bedding. Reintroduce the bed after receiving your replacement cover. If your dog has a history of destroying and possibly ingesting objects, supervision is recommended.  For more information, click on the orange tab above. 
Washing & Maintenance Instructions
All Gorilla Dog Bed covers, kennel covers, and liners are machine washable. Our nesting poly-fill mattresses are also washable, but all our foam orthopedic mattresses are NOT. Orthopedic beds should be exposed to fresh air when needed. Our covers and liners should be washed separately from any other laundry. Close the Velcro cover completely before washing. Wash in cold water and a delicate cycle. Wash liners unzipped and opened to allow air to escape. We do not recommend heat drying for any of our products. Air drying will ensure the longevity of the covers and liners. For easy cleaning and spot treatment, use a damp cloth or sponge to wipe off stains, dirt, or hair. An upholstery attachment for your vacuum is also useful.
Superb quality and comfort
My rescue historically shred beds and blankets when we'd go away. The ortho bed fits the crate so well, she hasn't even tried ripping at it. She sleeps totally different now too (completely splayed out). It seems way more comfortable for her.
The customer service was responsive, shipping was prompt. The product is excellent quality. I am very pleased to support a product made in America. Sending my appreciation from Canada!
Great Crate pad
We bought this for our daughter's Pit/Lab about 10 months old 65lbs. she has torn up every bed in the past in under 3 to 4 days. We even tried the Kong bed that made it 3 hours. It's been about 20 days now with the Gorilla mat and she finally gave up trying. We have now purchased a few of the power chewer balls and they also hold up great. Our new source for dog beds and toys.
Chew Proof Dog Crate Pads
We purchased two dog crate pads - two different sizes. The pads arrived promptly and were as ordered. Directions were clear and pads were installed into crates using the ties. Our dog which chewed previous pads has not shown ant evidence of chewing these. We have not yet washed the covers but instructions for this seem clear as well. Although more costly than other dog crate pads, we are pleased with the investment. Dog seems happy to go into his crates so must be comfortable.
My dog's bed is great
I'm really happy with the dog bed. I know I can leave home and she's not going to chew it up and eat it and get sick. It's really strong and it's done very well for her.
Excellent
Purchased Gorilla Orthopedic for Golden Retriever. t's a miracle dog bed. I wish I'd bought it sooner. It's worth every penny, especially after spending more (in total) on replacing other crate liners. I will be buying another and will recommend to other dog owners.