NEW!! Jack O'Lantern Durable Rubber Chew Toy & Dispenser
$15.75
-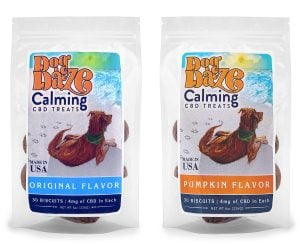 NEW! Dog Daze Calming CBD Treats—2 Flavors!
Our very own Dog Daze CBD 100% organic and American made calming treats are specially formulated for dogs that suffer from anxious and nervous behaviors. Dog Daze helps your dog maintain a peaceful relaxed state can help reduce behavioral problem like chewing.
Product Information
NEW!! Jack O'Lantern Durable Rubber Chew Toy & Dispenser
DURABLE PUMPKING TOY: The Jack O' Lantern Toy is designed to withstand the abuse of most "power chewer" dogs. The square shape makes it tough and
hard to destroy.
DISPENSES TREATS: Help your dog fight boredom by filling the can with treats like kibble or our New! Dog Daze CBD treats.
REDUCES PROBLEM BEHAVIORS: Reduces problem chewing, helps reduce boredom, and relieves separation anxiety.
SLOW FEEDER: Slow down fast eating habits or "Speed eaters" by serving your dog's food inside.
MADE IN USA: Designed and Manufactured in the USA!
NATURAL: All-natural rubber compound is FDA compliant, non-toxic and biodegradable. It is sustainably harvested helping us reduce our carbon footprint. Animal and planet friendly!
VETERINARIAN APPROVED
DISHWASHER SAFE: Dishwasher safe & easy to clean
REPLACEMENT GUARANTEE
We stand by our products and offer a 30-day replacement guarantee. Although all the products we sell are tough, no dog toy is indestructible. Supervise dogs while playing and chewing. Inspect frequently and replace if it becomes too small to chew safely. This product is not intended to be eaten or swallowed.
SIZES & DIMENSIONS
LARGE: 3″ tall x 2.75″ wide For dogs 30-85 lbs.
Nice Pumpkin
I had to buy another because my dogs got into a fight over this. First time that has happened and proves to me they love it. Great form holding the Dog Daze treats.
Too Cute
Got this cute toy for my pup and its perfect for spooky season and holds a good amount of treats or peanut better! Just glad it keeps her busy!
Perfect timing
Perfect timing for hollowing. I purchased the CBD treats with and it fits perfectly. Keeps my dog busy and takes the edge of in his crate when he is anxious. I am very happy.