NEW! Ultra Vel Orthopedic Dog Couch
$165.00 – $339.00
Need a different size? We offer custom sizes! Call, chat or email us for more information!
×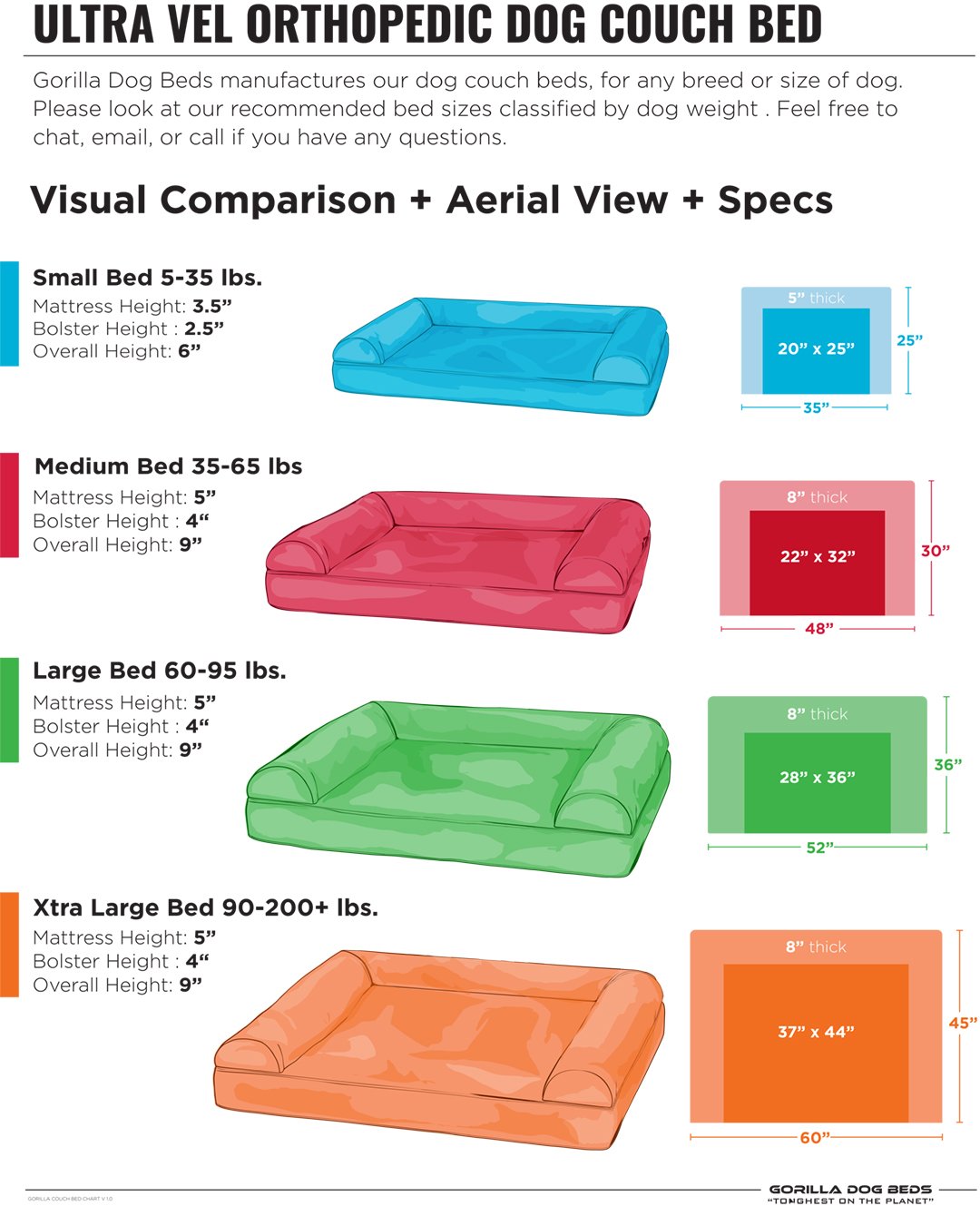 The Ultra Vel Orthopedic Dog Couch Bed offers uncompromising American quality, luxury, comfort, and performance.  We designed our couch bed for dogs that love to lounge and is your answer to keeping them off your couch! They provide perfect support for your dog with CertiPur US certified orthopedic foam used in all parts, including the bolsters. Your dog will love resting on this beautiful addition to any room, available in a wide array of colors to match any decor. 
These feature an incredibly soft, breathable, and luxurious top cover. It resists dirt, odor, mildew, and stains. Most messes and dirt wipe down with a damp cloth, but the cover and liner are washable. Our uniquely designed dog couch bed allows the cover to be completely removable and washable, making clean-ups quick and stress free! The sides and bottom portions are composed of Cordura® fabric, commonly used in military applications for its durability. Ultra Vel Orthopedic Dog Couches are triple stitched for added strength. We are the only dog bed company that uses a real triple stitched seam for incredible strength and durability. Our quality is second to none.  
Ultra Vel Orthopedic Dog Couch Beds are composed of an all American-made certified foam. Most couch beds use poly fill for the bolsters, while we use orthopedic foam that is guaranteed to never flatten! All of our beds go through rigorous testing and our mattresses have different densities by size to support the weight of any dog. If our mattress ever flattens, we will replace it free of charge. Your dog will not want to get off their own couch bed!
Features
Bolsters are composed of supportive foam, not polyfill which flattens over time and never holds its shape

American made by hand with certified foam by CertiPUR-US

Lifetime won't flatten Mattress Guarantee

Removable cover is machine washable

Giant dog beds to accommodate any large breed or perfect for multi-dog households 

Water-resistant liner included

Triple stitched seams (strongest of any dog bed)

Hypoallergenic

Military Grade Cordura

®

on sides & bottom

Luxurious, premium materials in colors that compliment your room
Washing & Maintenance Instructions
All Gorilla Dog Bed covers, kennel covers, and liners are machine washable. Foam mattresses are not. Orthopedic mattresses should be exposed to fresh air when needed. Our covers and liners should be washed separately and not with household laundry. Wash in cold water. Wash liners unzipped and opened to allow air to escape. Wash the cover zipped closed. We do not recommend heat drying for any of our products. Liners should be air dried only. Covers may be air dried, or on low heat in the dryer. For spot cleaning, use a damp cloth or sponge to wipe off stains, dirt, or hair. An upholstery attachment for your vacuum can also be effective.
Amazing
This dog bed is so comfortable that I even lay down with them while they are in it. They love it.
Very Nice Bed
My Mastiff loves this be more than any other bed I ever got for him. The quality is very very good and the workmanship is second to none. The time and design that went into the construction is amazing. Best of all the dog got off of my couch. lol. This is my second purchase from Gorilla Dog beds and could not be happier with my purchase and know it will last longer than anything else on the market. Thank you for making outstanding products.
1st customer to purchase and the best bed money can buy
My dogs always liked this style of bed and everything else on the market it garbage. I asked Gorilla Dog beds when they were going to come out with one about 3 months ago. I purchased several other beds from them and have never seen this type of quality from a manufacturer. I knew that if I waited, I would get the best. I was told that it was in the development stages and that I would be the first to know when it came out. They gave me a call last week and was so excited to be the first customer to purchase this bed. They really spent the time to think this one out. The base is supportive and extremely comfortable and even comes with a liner. The bolsters have their own compartment and so the cover is very easy to wash and put back together. The bed came assembled and after I opened the vacuum sealed bag in 24 hours it expanded to it's full size and is absolutely perfect. My dogs took to it right away and the quality and fight over it know. Looks like I am going to get another. The quality and workmanship is superb. The materials used are soft, durable and will last forever. The fact that it comes with a lifetime wont flatten guarantee shows that they really believe in the durability. Thank you for being the absolute best dog bed company on the planet and for making all of your beds in the USA with American materials. Customer for life. You guys are awesome.