What Type of Dog Bed is Best for Arthritis?
Posted on April 2, 2020 by rpxwebmaster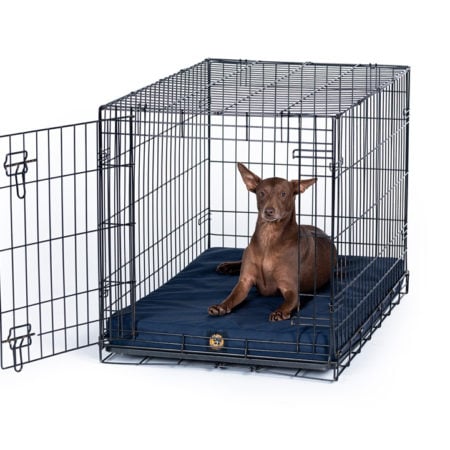 Dogs develop health issues as they get older, and one of them could be arthritis. People start to have similar issues as they age. Chronic pain in their backs, necks, and joints can make it hard to sleep. And the first thing they look for in a solution is more comfortable bedding. So, why not do the same for your furry friend? It can be hard to see your dog develop these kinds of issues as he or she gets older, but getting an orthopedic dog bed for arthritis can make your dog more comfortable regardless of its age.
What Makes an Orthopedic Dog Bed
There's no exact definition for what makes a dog bed great for arthritis, but an orthopedic dog bed will provide more support for the joints and back. Dog beds for arthritis have many features that will make your furry friend more comfortable both at night and throughout the day. Not only can they give your dog more back and joint support, but they can also offer more relief after surgery. An orthopedic dog bed can help your dog sleep better, because it will provide relief from chronic joint and muscle pain. That's why orthopedic dog beds can be a great benefit for dogs of any age.
Best Types of Dog Beds for Arthritis
Orthopedic dog beds for arthritis have a number of features that offer more support while your dog is resting, and there are some types that can work great for this purpose. There are several types of dog beds for arthritis that can give your dog more orthopedic support, which is important for your dog to stay comfortable. Your dog may have a tendency to chew when it gets nervous, so getting a bed that's more resistant to these destructive behaviors can also be helpful.
Older dogs can have more accidents because their bladder control can deteriorate with age, and liquid-resistant dog beds can be the perfect solution. Look for one with an orthopedic base, some spill-proof lining, and a removable cover that you can put in your washing machine. Even if your dog doesn't have issues with incontinence, these types of dog beds can be beneficial because they're easier to clean. At the end of the day, you want to find a bed with which your dog will be comfortable.
If you're looking for some of the best orthopedic dog beds for arthritis, be sure to look at what we have at Gorilla Dog Beds. All of our products are made from quality, chew-resistant materials that are built to last through years of rugged use. So if you're ready to but a quality dog bed that will make your dog more comfortable, feel free to look at what we have in our inventory. We're sure you'll be able to find an orthopedic dog bed that will meet your specific needs and will make your dog feel right at home.